Q. What is your price structure on storing data?
A. Pricing for storage is based on cubic feet. Levels of pricing are based on volume. Service pricing is based on usage and volume.

Free Inital Transfer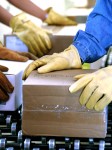 Hansen Records Management will transfer all containers from your present storage facility to our records storage facility free of charge.