Q. We have a mountain of paper! Can you help organize it?
A. Yes, we provide to you at no charge the forms and barcodes that you may need. Also free of charge is the transfer of your documents or records from your current storage location to our facility. If you need our help in boxing and labeling your data, we can do that, too, for a fee.

Free Inital Transfer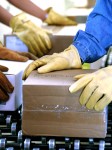 Hansen Records Management will transfer all containers from your present storage facility to our records storage facility free of charge.